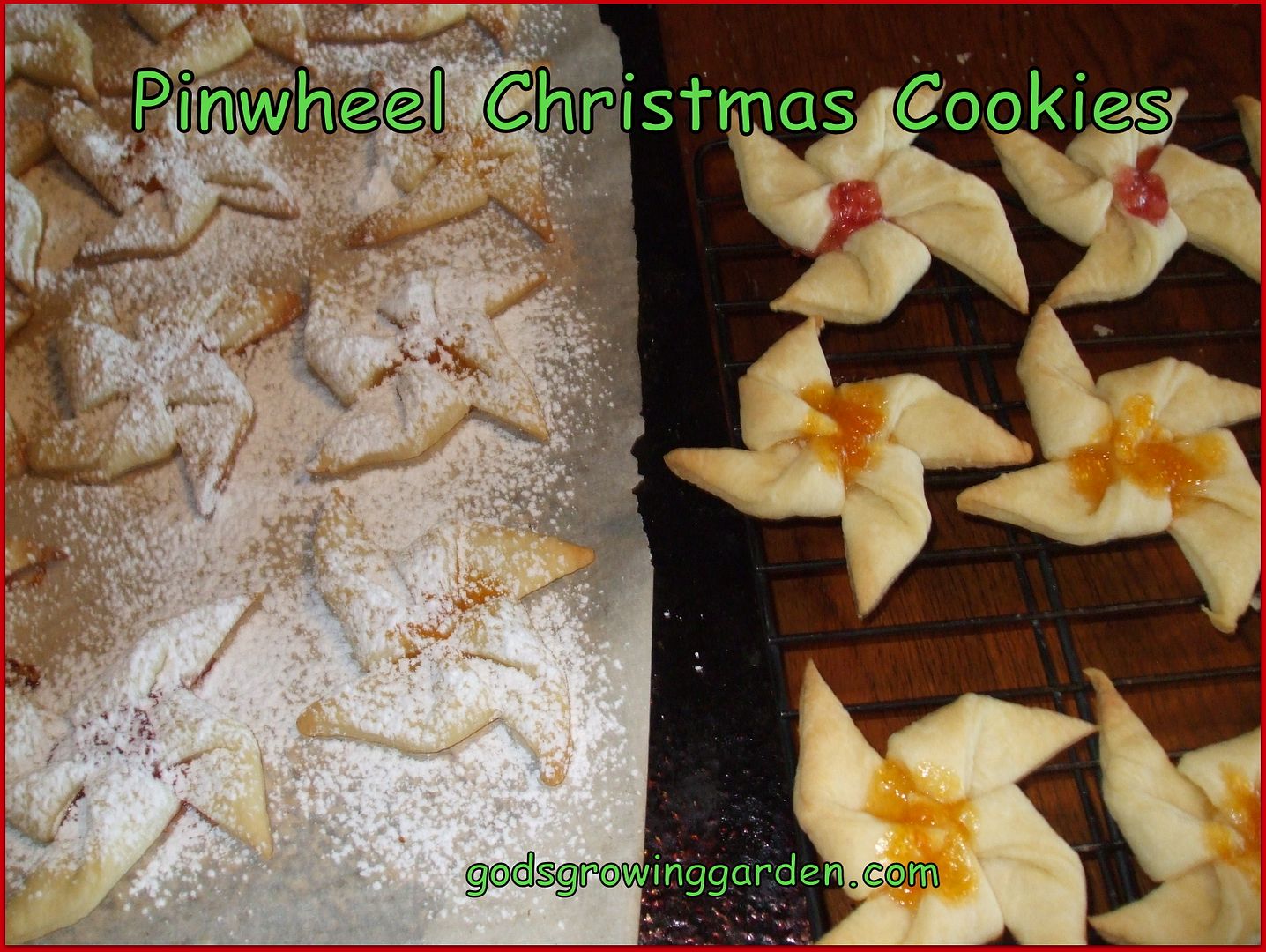 Pinwheel Christmas Cookies
These are some of the most beautiful Christmas cookies & a great way to use some of that jam & jelly that you made this past summer. I grew up making these cookies with my mom - it is my mom's recipe.
The cookie cutter that you see below can be found on Amazon.com
This recipe is difficult because you have to use icing sugar (powdered sugar) for rolling instead of flour - this makes the dough very sticky & it is just not so easy to roll out. However, it will be worth the effort once you taste these lovely cookies.
1/2 teaspoon baking powder
6 tablespoons unsalted butter
2/3 cup apricot jam (you may use other flavors of jam & jelly)
powdered sugar (for rolling & to dust on top)
1. Sift the flour & baking powder into a large bowl.
2. Cut the butter into the sifted ingredients until crumbly (it will resemble a crumb topping). 3. In a different bowl - beat the whipping cream with an electric mixer until whipped & stiff. 4. Stir the whipped cream into the flour mixture until combined to make a stiff dough.
5. Wrap the dough in wax paper & chill several hours in the fridge.
6. Cut the dough into 4 pieces & only roll out 1 chunk at a time.
7. Dust your rolling surface with a little powdered sugar & roll out 1 chunk of the dough until it is about 1/8 " thick.
8. Use your Pinwheel cutter & cut as many cookies as you can from the rolled out dough. 9. Moisten your finger & dot every other point with some water. Now fold (but do Not crease) every other point into the center of the cookie (see the top 4 cookies in the picture below starting at the left - every other corner is folded down into the middle).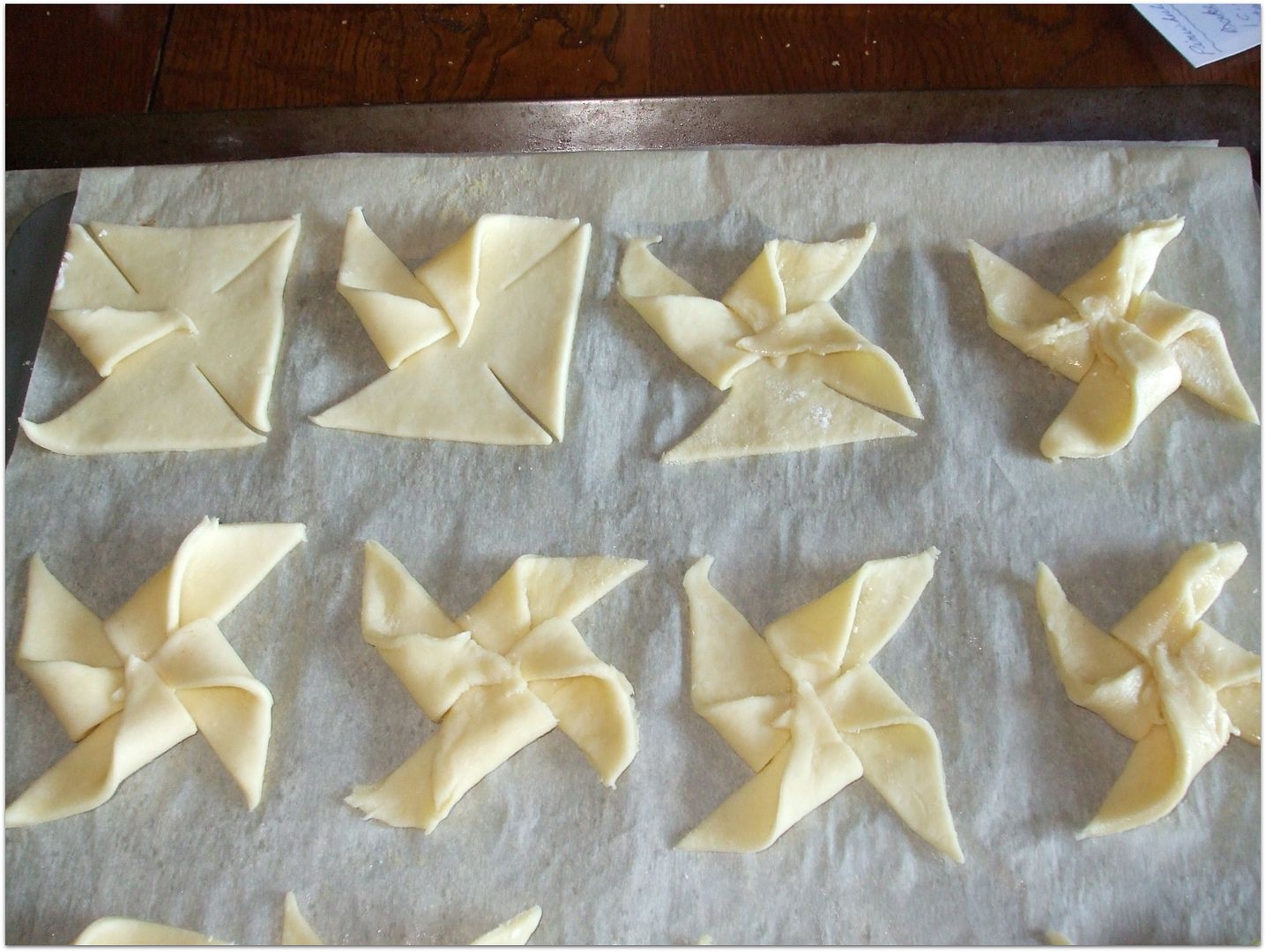 10. (Now you have 2 options - you can bake the cookie with the jam in the middle or place the jam in the middle afterwards). (the jam will run a little if baked) Place a little jam on top of the overlapped points in the middle of each cookie.
11. Bake in a 350 degree oven for 15 minutes or until desired texture & golden brown color is achieved.
12. Repeat steps 7-11 until all of the dough has been used up.
13. Allow cookies to completely cool & then dust with powdered sugar.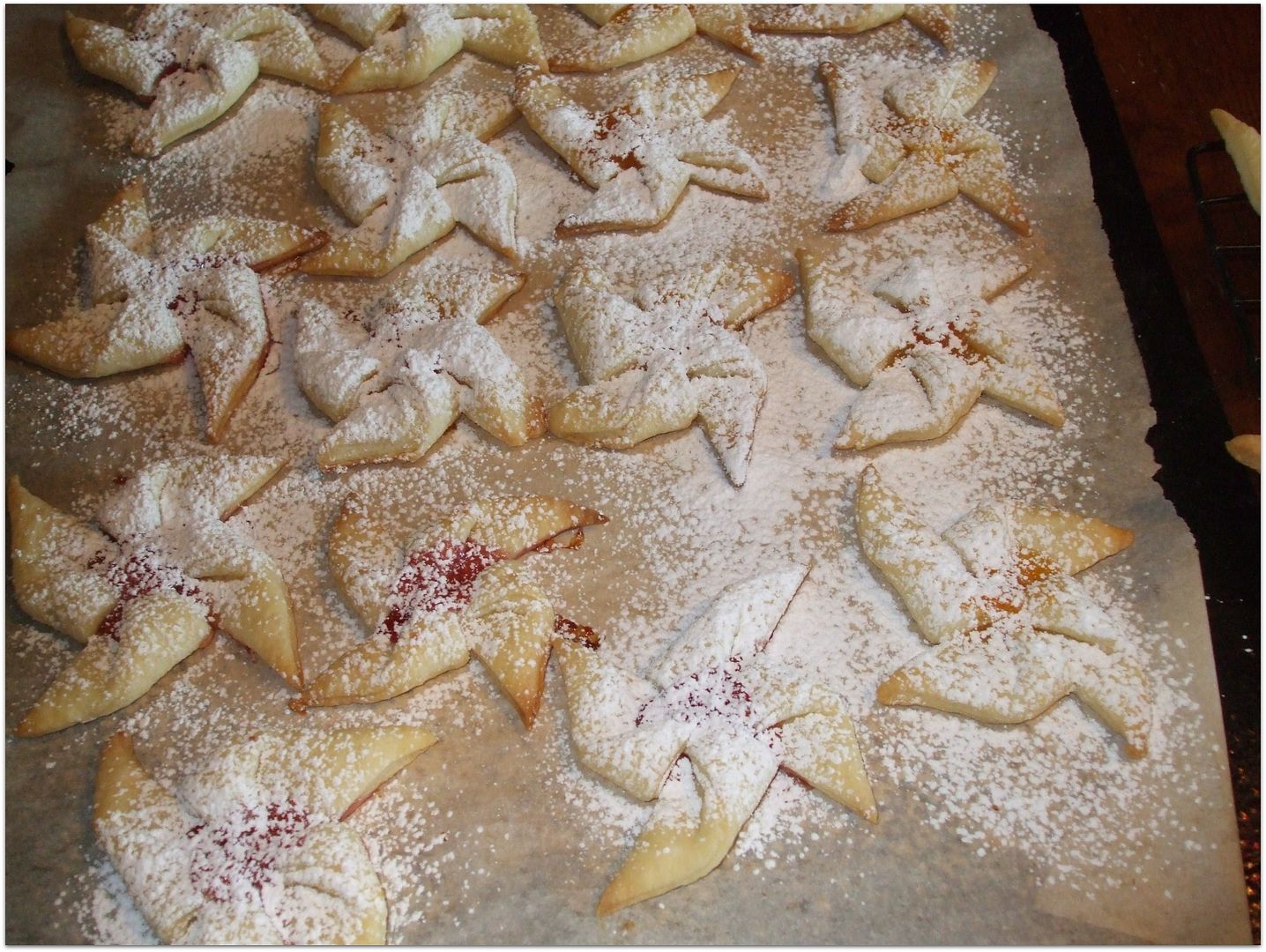 ENJOY!!
Featured on:
Linked to:
Tuesdays with a Twist
Four Seasons Blog Hop
Christmas Cookie Swap Linky
_________________________________________________________________
Angel from "Sew Crafty Angel"
has an amazing blog full of delicious recipes, fun blog hops, great giveaways & crafty ideas!!