Cauliflower Lasagna Roll-ups with White Sauce
These were a great hit with my family - both in flavor and presentation! These Roll-ups are cute little bundles of tasty joy!
This is a vegetarian dish but if you preferred you could add chicken (white meat or ground chicken- both previously cooked) or an egg (whisked first) to the filling.
Also, I added White Wine to my White Sauce but if you prefer you may omit the Wine - not quite as tasty but still good.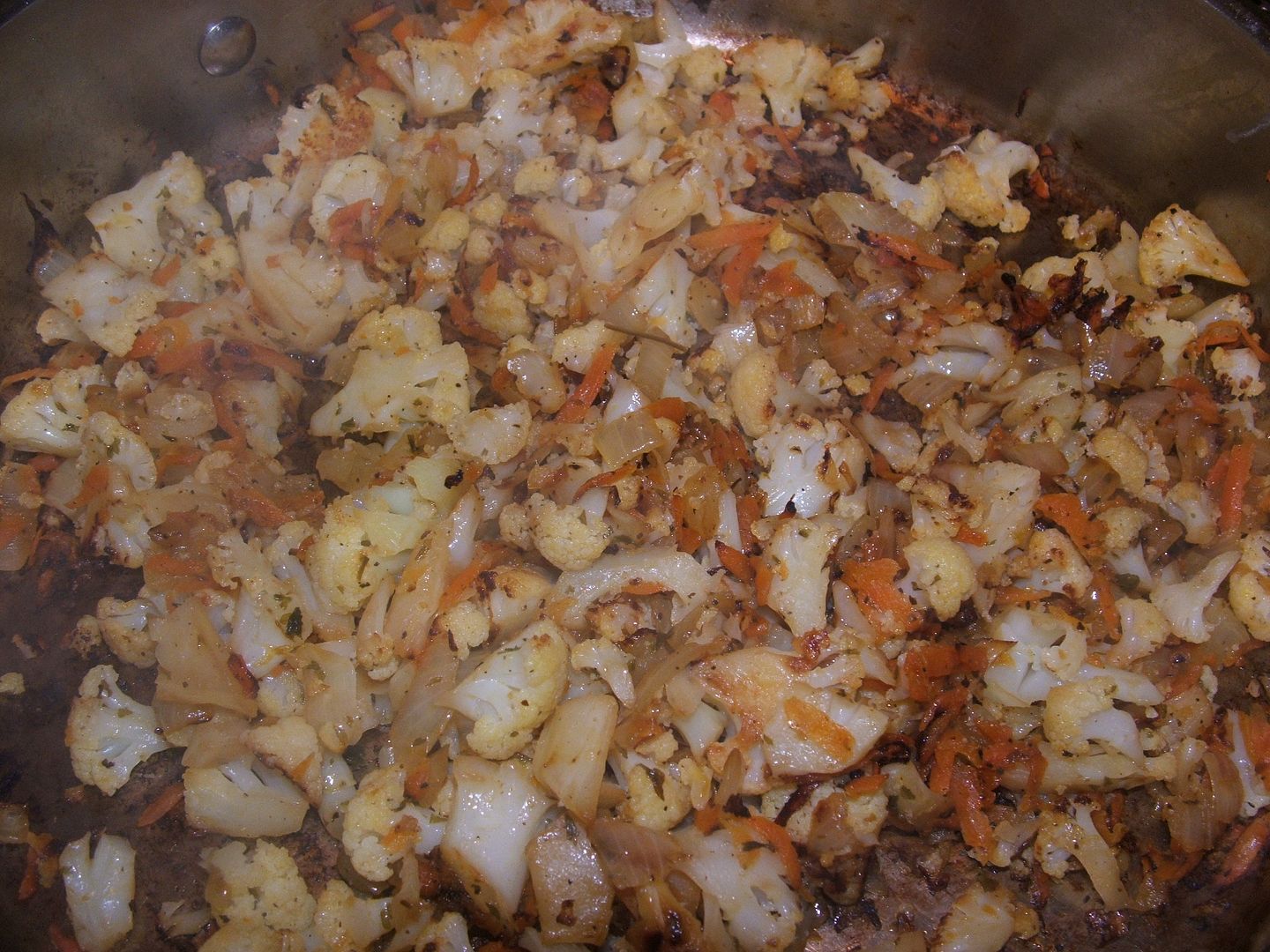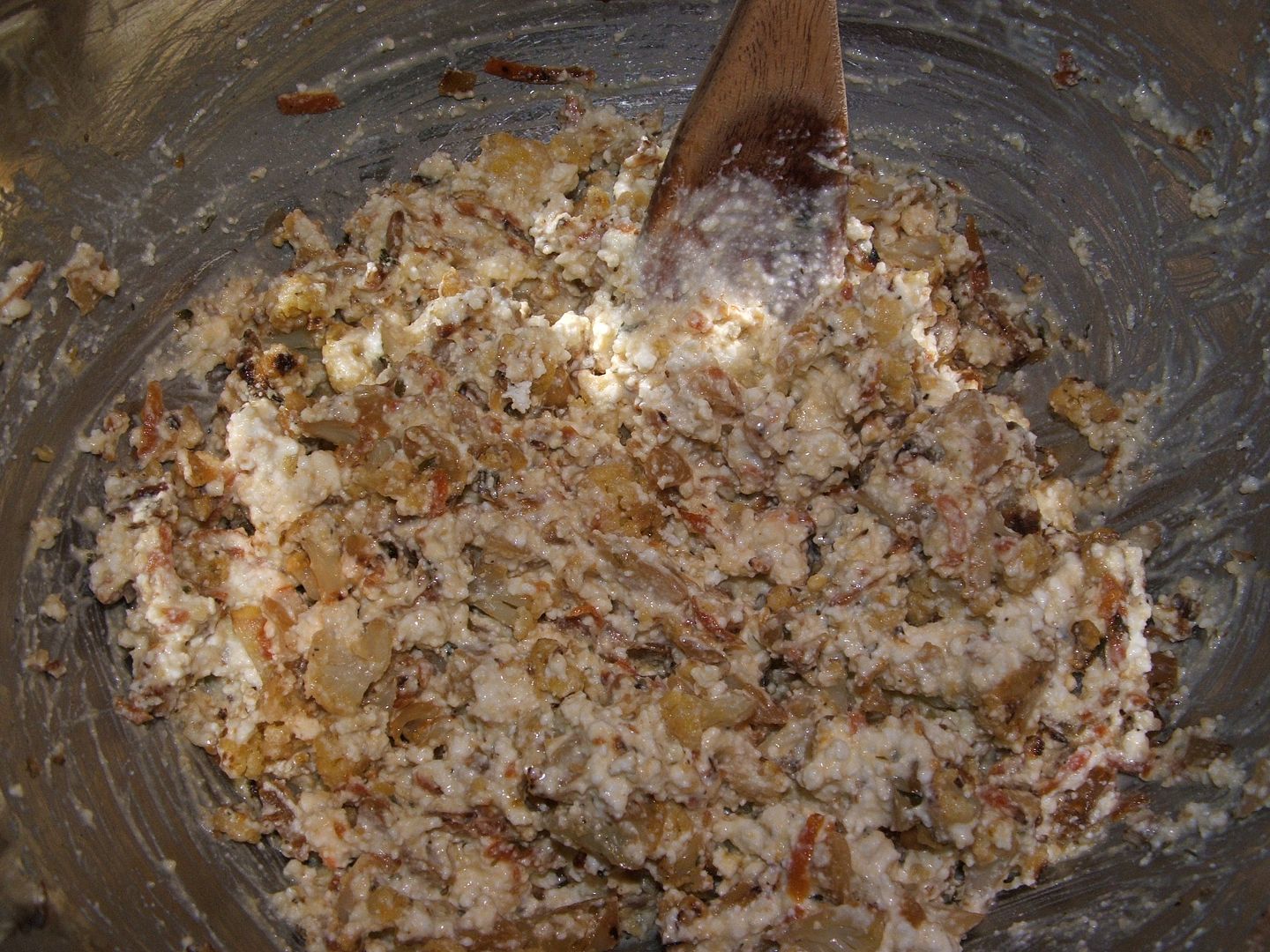 1 package of Lasagna noodles
For the Filling:
1 large onion (peeled & chopped)
3 carrots (peeled & shredded)
1 cup mushrooms (washed, drained & chopped)
3 cups cauliflower florets (washed, drained & chopped)
2 cups cottage cheese (or 1 cup ricotta & 1 cup cottage)
a little olive oil for sautéing
Parsley, basil, salt & pepper to taste
Prepare the Lasagna as directed on the package (I boiled 2 minutes less than suggested for an al dente texture - DO NOT OVERBOIL). Drain & set aside to cool. While the noodles are cooling - prepare the ingredients as listed above (chop & shred etc). In a large frying pan - add some olive oil and sauté the prepared onion & cauliflower for about 7 minutes, now add the shredded carrots - sauté for another few minutes. Finally, in the last couple minutes of cooking - add the mushrooms, herbs, salt & pepper to the frying pan (see top left picture). Remove the pan from the heat & allow to cool a little.
In a large mixing bowl combine the cheeses (if you are going to add meat or an egg add that now) - stir together. Add the previously sauted vegetables & herbs to the cheese mixture and stir until combined (see top right picture). Now you are ready to assemble the roll-ups!
How to Assemble:
Take 1 previously cooked lasagna noodle and place on a plate (unrolled) (see picture above). Now take 2 tablespoons of filling (previously prepared) and spread along the top of the lasagna noodle (again see picture above). Now, roll the noodle up until you get the cutest bundle (see picture below). Place this roll-up in a sprayed large Pyrex dish. Continue filling & rolling until all of the noodles or all of the filling has been used up (whichever comes first - I had 1 noodle left over unfilled)
Once all of the Lasagna Roll-ups have been assembled you may go on to make the White Sauce.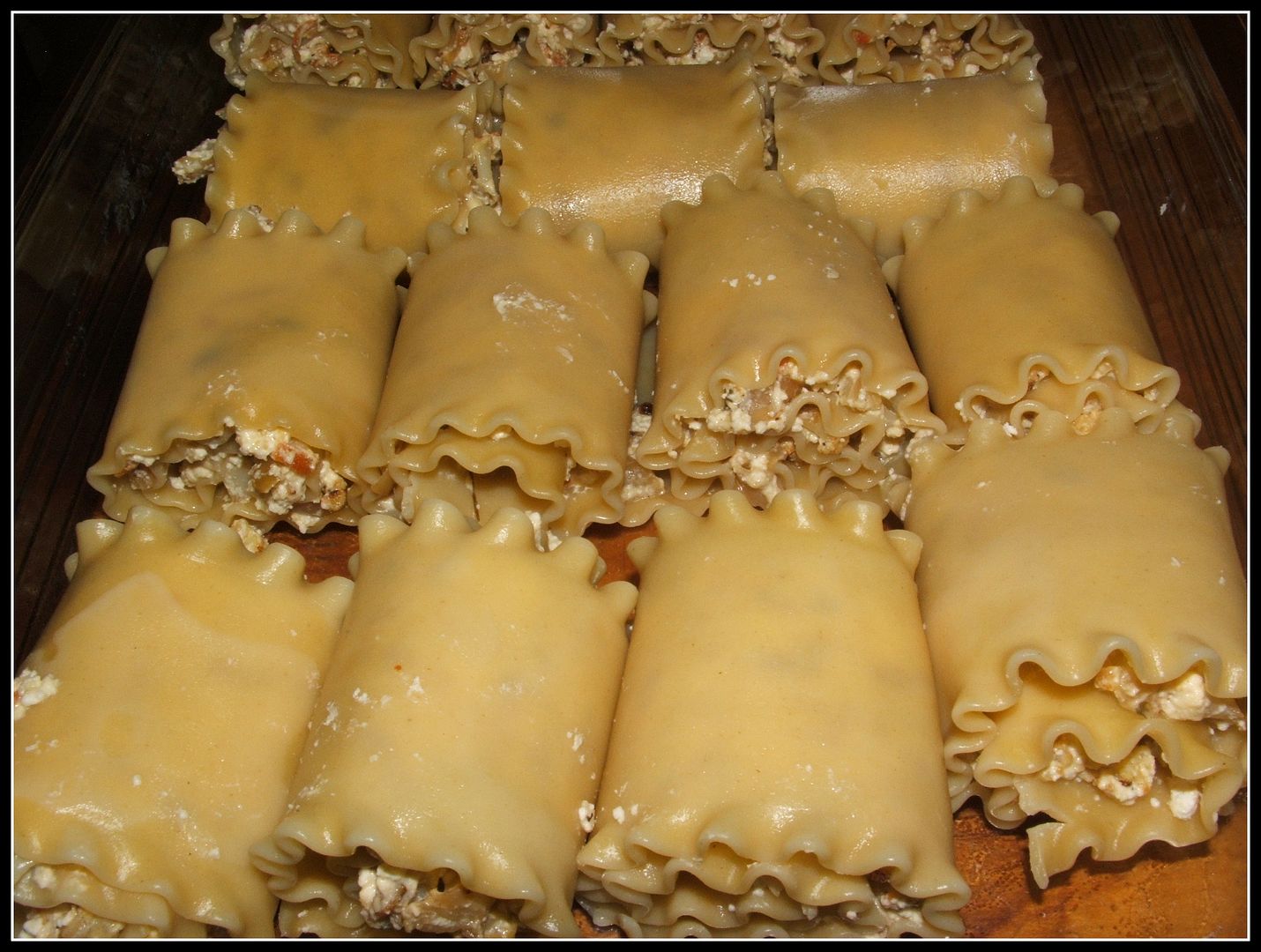 White Wine Cream Sauce
2 cups milk (I use whole milk)
2+ garlic clove(s) (peeled & minced)
4 large mushrooms (washed & chopped)
1 Vidalia onion (peeled, chopped)
1/4 cup red or white wine (I used white)
(a little olive oil)
Prepare the ingredients as listed above (chop, mince etc). In a large frying pan - sauté the onion, mushrooms & garlic in a little oil for a few minutes - remove the onion, mushrooms & garlic & set aside for later. Melt the butter in this same frying pan and whisk the flour into the butter until mostly mixed together. Slowly add the milk over medium heat - whisking all the time!!
Keep stirring until the sauce thickens. Now add the wine, parmesan cheese, salt & pepper & stir until the cheese is melted. Finally add the onions, mushrooms & garlic from the previous step. You should have a silky cream sauce resembling the picture below.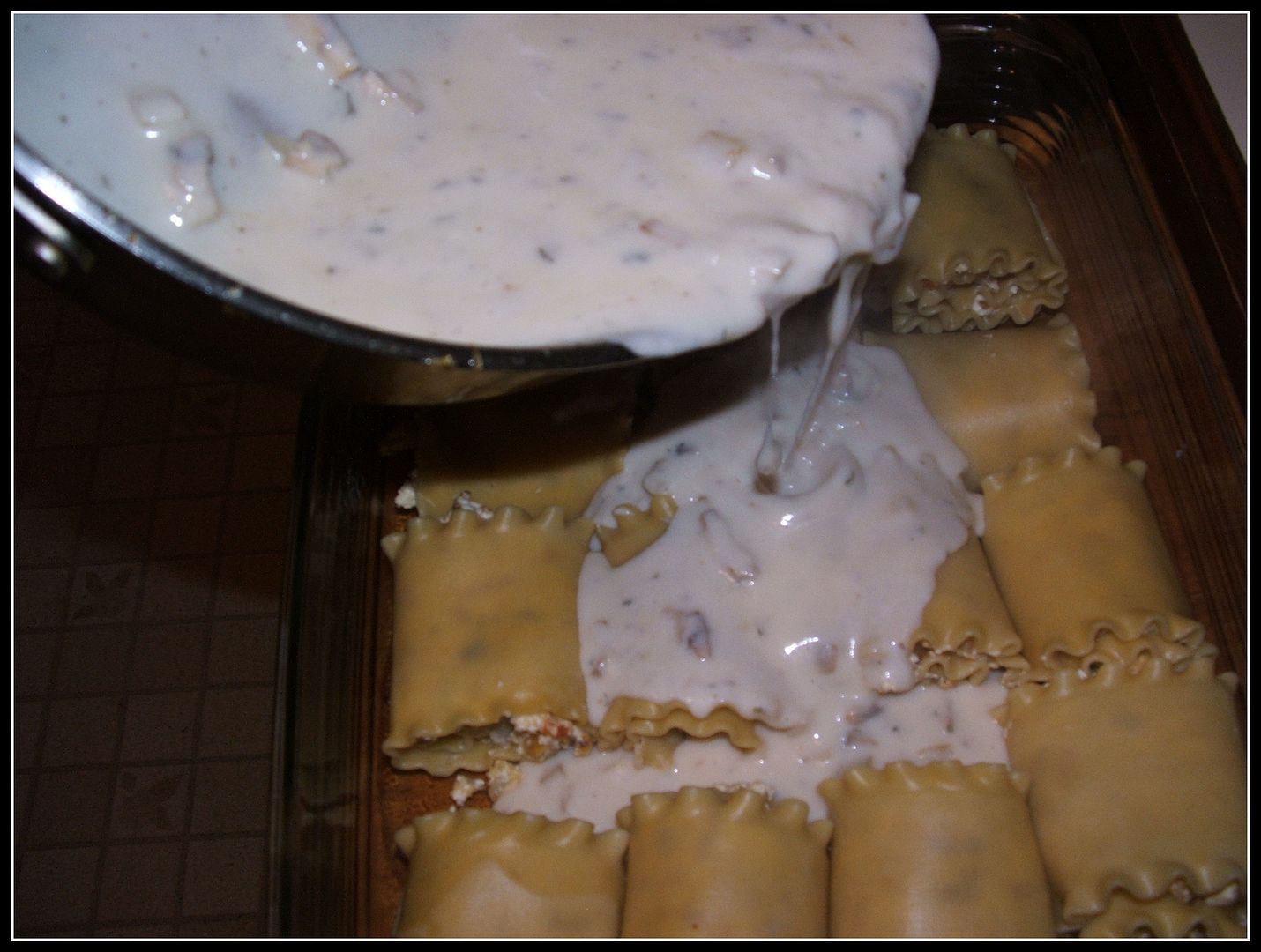 Pour the White Wine Sauce over the assembled Lasagna Roll-ups (see picture below). Bake in a preheated 350 degree oven for 20 to 30 minutes (or until desired "doneness" is achieved). CAUTION: If you do not like some of the noodle edges getting a little crispy then cover the Pyrex dish with foil.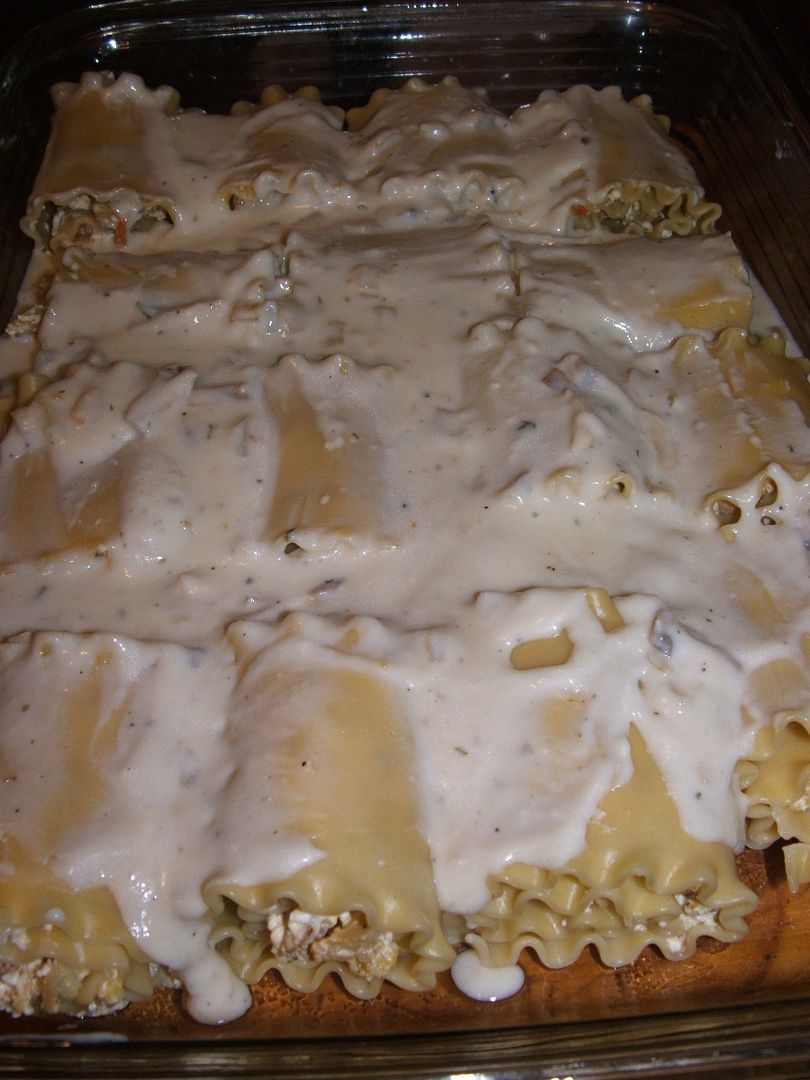 Remove from the oven, serve immediately & ENJOY!!
(Careful - It's HOT)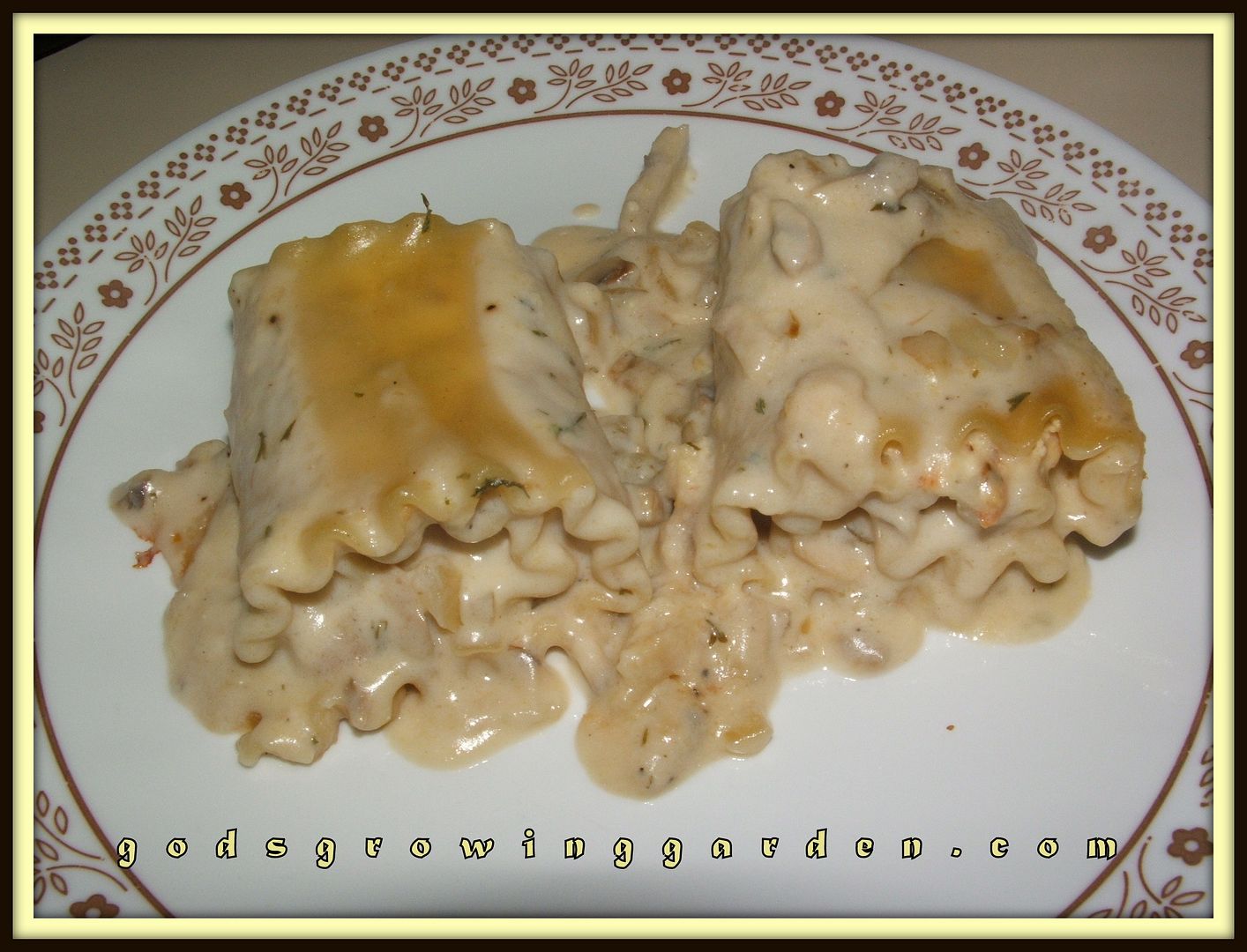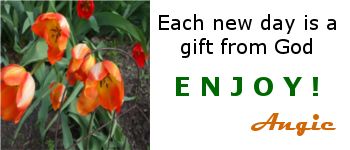 Linked to:
Four Seasons Blog Hop
Thursday Favorite Things
Homemaking Party
Freedom Friday
Adorned from Above
SITS Sharefest
Tickle My Tastebuds
Happiness is Homemade
______________________________________________________________________
Please checkout this month's wonderful Sponsor!!
Cynthia Tessmer from "Shoreline Designed" creates Natural Beach Stone Jewelry (Please click on the ad below):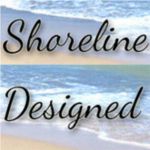 Find out more about this amazing artist CLICK HERE