"God is light; in him there is no darkness at all. If we claim to have fellowship with him yet walk in the darkness, we lie and do not live by the truth. But if we walk in the light, as he is in the light, we have fellowship with one another, and the blood of Jesus his Son, purifies us from all sin." 1 John 1:5-7
God is Light - Cure for Cabin Fever of the Soul!
I titled this post "God is Light - Cure for Cabin Fever of the Soul" - some of the "southerners" out there might not be familiar with the meaning of "Cabin Fever."
Cabin Fever takes place in the dead of winter - especially in the far north where there are only a few hours of daylight and the extreme temperatures make it necessary to stay inside where it is warm. Cabin Fever causes one to feel claustrophobic, irritable and anxious as if the walls are closing in on you and you'll never be able to escape. I have never had cabin fever before this year - I enjoy Winter but we have had a record breaking season in the Midwest and most of us are feeling the effects.
There is also "SAD" or "Season Affective Disorder" where people get so depressed in the middle of the winter when there are so few hours of sunlight. My father has SAD and he has been cured by exposure to a sunlamp for 20 minutes a day during the Winter.
Both of these "disorders" are examples of what it feels like to live without God - to live a lie and not "live by the truth."
I made a small list of light vs darkness:
| | |
| --- | --- |
| | |
| | |
When we "walk in darkness" away from God - we feel anxious, depressed and irritable. The only way to overcome these horrible feelings is to "walk in the light" or live in a way that is pleasing to God - follow Him, accept God's forgiveness through Jesus who died for our sins so that we all might have eternal life, repent and live a life that glorifies God!
"For God, who said, 'Let light shine out of darkness.' made his light shine in our hearts to give us the light of the knowledge of the glory of God in the face of Christ." 2 Corinthians 4:6
We can be the light that shines in the smallest of cabins during the darkest part of the Winter!
Let God's light and truth shine through you to cure the Cabin Fever of the Souls in this world!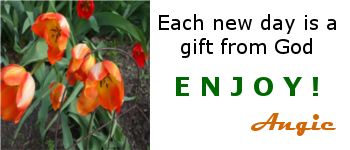 _____________
___
______________
"Prayer Warriors United" is a google+ Community where Christians come together in prayer.
click HERE to view or join this community
If you need prayer please fill out this
If you have a true life story about answered Prayer and would like to share this "Prayer Proof" with us here on this blog then please fill out this form: click
HERE