Grandma Vi's Refrigerator Cookies
Refrigerator Cookies are so convenient! - Just make up the dough, place in the fridge & bake up when you want or as needed! Simple and tasty - they are always freshly baked!
Grandma Vi was my husband's grandmother - she was a Swede and loved to bake & cook. I never met her of course but she looks so sweet in the farmhouse picture above (and I'm told that she was a sweetie).
I have my mother-in-law's permission to share this recipe with you today.
1/2 cup butter (softened)
1 1/2 teaspoons vanilla extract
2 teaspoons baking powder
1/4 to 1/2 cup chopped nuts (optional)
With an electric mixer - cream together the butter, brown sugar, granulated sugar, egg & vanilla extract until smooth & combined. Stir in the flour, salt & baking powder until combined. Form the dough into a ball & cut in half (see picture above on the left). I took half of that dough & kneaded in 1/4 cup of the nuts into the dough so we could have some plain vanilla cookies & some nutty cookies - you may make the entire batch with nuts (use 1/2 cup in that case) or make the entire batch vanilla - it's up to you.
Now roll each half into a cylinder type shape (see top picture on the right) and wrap in waxed paper. Place in the fridge (chill for at least 2 hours before baking) and now you make bake up cookies whenever you want!
When you are ready to bake some Refrigerator Cookies then take the cylinder roll/dough out of the fridge, unwrap from the wax paper & slice thin slices (about 1/4 inch thick). Place on a parchment paper lined cookie sheet & bake in a preheated 375 degree oven for 8 to 10 minutes (or until desired golden brown color is achieved).

(Make sure that all of the dough is used up in one week).
Remove from the oven & allow to cool.
Serve & ENJOY!!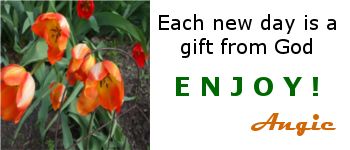 Linked to:
Freedom Friday
Inspiration Monday
Turn It Up Tuesdays
The Homemaking Party
_________________________________________________________________
"A Kitchen Hoor's Adventures"
Chris has been in the kitchen since she was tall enough to see over the counter. Her scrumptious blog is full of amazing recipes & tips.
(Please click on the ad above)