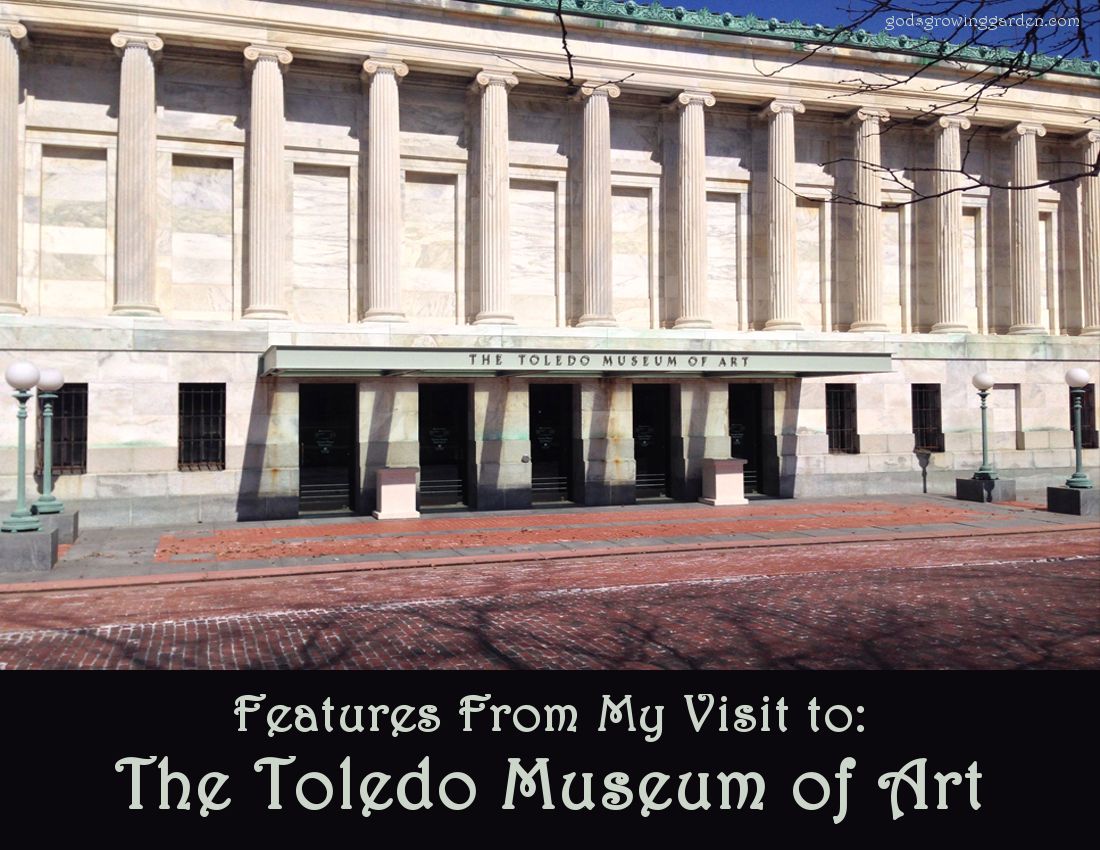 Features From My Visit to: The Toledo Museum of Art - ITALIAN#1
TMA (Toledo Museum of Art) is one of my favorite places in Toledo, Ohio. I first visited this beautiful museum when I was in high school in Canada. I grew up in the Windsor area and I was privileged to go to a high school with an advanced art program. We actually visited the TMA twice throughout my high school career. I had no idea when I was a teenager that I would actually marry an American and then settle in the Toledo area! I now visit my favorite museum once a year.
I will be featuring a few pieces from the TMA each month.
"Christ and the Centurion"
(Oil on canvas)
By Paolo Veronese
(Italian 1528-1588)
I thought it was appropriate to showcase a painting showing something from Jesus' life, since Easter is only a week away.
This artist was a Venetian Renaissance painter - The Toledo Museum of Art website describes the technique of the Renaissance period the best:
emphasized soft, almost blurred contours, textured brushstrokes, and the layering of glazes to achieve luminous colors.
Scripture about "The Faith of the Centurion":
"
When Jesus had entered Capernaum, a centurion came to him, asking for help.
"Lord," he said, "my servant lies at home paralyzed, suffering terribly."
Jesus said to him, "Shall I come and heal him?"
The centurion replied, "Lord, I do not deserve to have you come under my roof. But just say the word, and my servant will be healed. For I myself am a man under authority, with soldiers under me. I tell this one, 'Go,' and he goes; and that one, 'Come,' and he comes. I say to my servant, 'Do this,' and he does it."
When Jesus heard this, he was amazed and said to those following him, "Truly I tell you, I have not found anyone in Israel with such great faith. I say to you that many will come from the east and the west, and will take their places at the feast with Abraham, Isaac and Jacob in the kingdom of heaven. But the subjects of the kingdom will be thrown outside, into the darkness, where there will be weeping and gnashing of teeth."
Then Jesus said to the centurion, "Go! Let it be done just as you believed it would." And his servant was healed at that moment.
"
Matthew 8:5-13
ENJOY!
Other TMA Posts:
Church Stained Glass
"Hazy Day on the Marshes"
"A Dutch Road"
"Rainy Day, Boston"
Tiffany Chandelier
"The Open Air Breakfast"
"The Scottish Highlands"
"The Country Gallants"
"Morning Glory Chandelier"
"Interior of Courtyard, Strandgade30"
"Early Puritans of New England Going To Church"
"White Terrier"
"Winter Landscape With a Bird Trap"
"A Rainbow Like You"
"Landscape with Christ and the Woman of Canaan"
Copyright, Permissions & Disclaimer
Linked to:
Over the Moon Linky Party
__________________________________________________________________
Grow your own!
Many wonderful garden products from